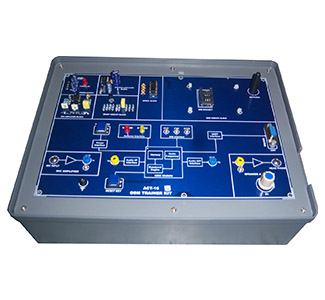 Features:
Quad-Band GSM/GPRS 850/ 900/ 1800/ 1900 MHz
Built in RS232 Level Converter (MAX232) provided in 9 Pin D type connector
Configurable baud rate
SMA connector with GSM L Type Antenna.
Built in SIM Card holder.
Built in Network LED, Status LED, Power LED
Inbuilt Powerful TCP/IP protocol stack for internet data transfer over GPRS.
Audio interface Connector
View DataSheet
Features:
L1 Frequency, C/A code, 51-channel High Sensitivity:Up to -158 dBm tracking, superior urban performances
Cold Start,Warm Start, Hot Start operation
9600 baud rate Serial Transmission
Built in RS232 Level Converter (MAX232) provided in 9 Pin D type connector
Windows based software support GPS Status, Signal Level, Sky chart constellation of SV.
View DataSheet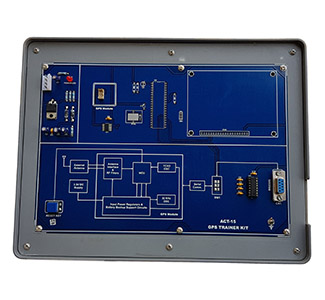 (ACT–17) - GSM Mobile Trainer Kit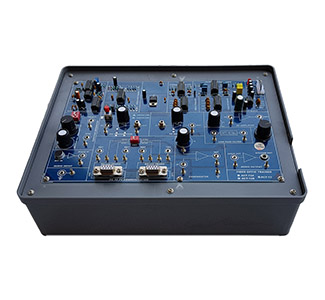 Features:
Dual band 900 / 1800 MHz GSM / GPRS Modem.
Onboard RS-232 & USB connector for PC Communication
20 Membrane keys with multifunctional operation.
GLCD 128x64 for display, RTC, Mic and Speaker interface.
SMA antenna connector with antenna.
Sliding / fixed landing SIM holder (3.3V/5V SIM interf.)
Remote control by AT commands (according to GSM 07.07 and GSM 07.05)
Maximum output power 2W for GSM 900: 1W for GSM 1800
View DataSheet
(ADCT–11) - CDMA TRAINER KIT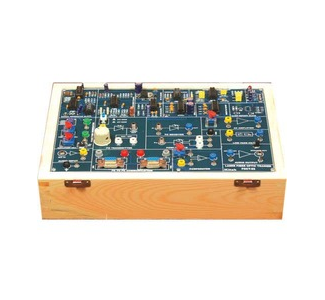 Features:
Two Channel CDMA (DSSS and FHSS) Techniques
16Kbps, 8 Kbps, 4Kbps of Data rate, 8 bits World Length
Data Format is NRZ (Non Return to Zero)
PN Sequence Generators Chip Clock : 240 KHz, 120 KHz, 60 KHz,16KHz, 8KHz, 4KHz with Maximal length sequence & Selectable through feedback taps in LFSR.
100 KHz for mark and 50 KHz for space BFSK frequencies.
Sinusoidal Frequency synthesizer Output
Frequency synthesizer frequencies : 1.6 MHz, 1.4 MHz, 800 KHz,400KHz.
Hopping channels are Four with variable selectable for slow and fast hopping.